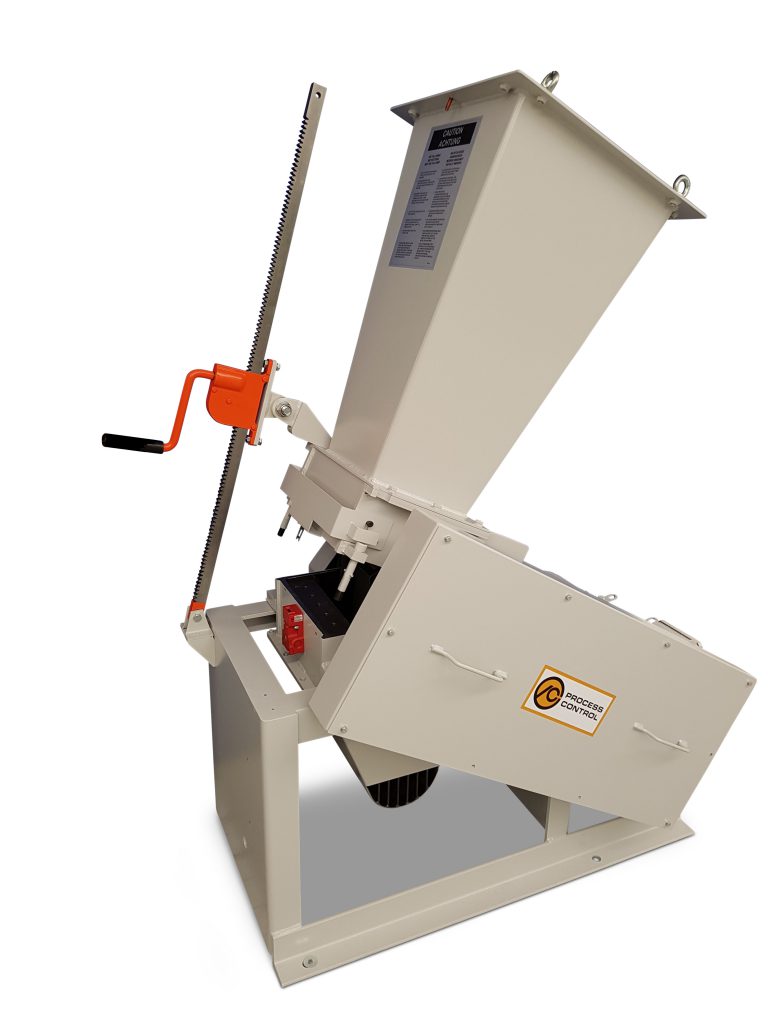 The GF Series grinders from Process Control are used as part of an asr® Automatic Scrap Recycling system for in-line recycling of production film scrap. GF Series grinders are designed to provide efficient, uniform grinding of film scrap. There are four cutting chamber sizes available along with different horsepower motors to accurately match the grinder to the required scrap rate. The GF Series grinders are available in configurations that accept edge and bleed trims, roll scrap, and loose scrap.
Standard carbide-coated knives are employed in the system, increasing the time between sharpening. The rotor knives approach the stationary bed knife, or knives, at a steep angle to ensure a clean scissors-cut. This technique is used for maximum bulk-density and flow of ground scrap. The open rotor design improves airflow for cooling, permitting the highest possible throughput.
After the cutting chamber, material passes through a sizing screen that is chosen specifically for the application and material. The ground scrap is pulled through the grinder screen and carried through the process by the scrap conveying fan standard on each GF Series grinder.
Reintroduction of roll scrap is achieved with the attachment of an optional RN Series roll feeder. The roll feeder has knurled rolls that provide a strong pull on the film, without wrapping. They are available in several sizes with variable speed DC motors that run at 3 – 32 fpm (1 – 10 m/min).

– Printable specifications (german)

– Printable specifications (english)
For your request:
Please contact us directly or send us the completed data sheet.
Notice:
The printable equipment specification sheets contained on this page were created with Adobe Acrobat. To view them, you will need the Adobe Acrobat Reader. If you do not have this program, you may download it for free by clicking the icon below.